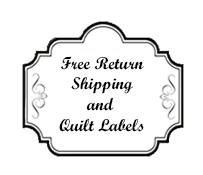 Thank you for visiting our web site and hopefully you will have an opportunity to visit our shop in the near future. In the meantime, let me introduce you to our world of the Great American Cover — "Quilts."
We are a family owned business dedicated to providing and restoring the most beautiful quilts in the world. We love quilts. We make them, we sell them, we restore them, we buy them, we appraise them, we launder them, we rescue them, and on special occasions, we even donate them. And perhaps most of all, we thank God for all the gentle souls throughout the ages who took needle and thread in hand to create a family treasure.
In 1987, with an established background in quilt design and quilt sales, Nancy Preston, also known as "The Quilt Doctor®", opened her first shop in Vienna, Virginia featuring retail sales of quilts, baby items, and decorative pillows. Over time, it became the place where people brought their family quilts for repairs. Interestingly, a large number of her clients were men who as children watched their Grandmothers creating the quilts.
As the business continued to grow, space became a limiting factor and in 2003, the shop was relocated to a larger facility also in Vienna, Virginia. As the business continued to expand, the Washington Post newspaper took note and featured an article which stated, "Her interest in and knowledge of quilts, which began when she was growing up in Ohio's Amish country, have won Preston a devoted local coterie Today, thanks in part to her Web site, www.quiltdoctor.com, her clientele is global." In addition to the registered trademark, The Quilt Doctor®, Nancy was also awarded two (2) patents from the Director of the U.S. Patent and Trademark Office pertaining to quilt products. Patent No.: US7,926,433 B2 was awarded on April 19, 2011. The second patent, Patent No.: US 8,353,250 B2 was awarded on January 15, 2013.
The repair/restoration continued to expand along with an increased staff and in April 2013, the shop relocated again seeking a dedicated Atelier to accommodate the operation. The current shop, known as the Quilt Shop of McLean, is located at 6819 Elm Street in neighboring McLean, Virginia. The new shop features a large Atelier with work tables for quilt repair and racks of new and vintage fabrics.
Now, Nancy has well over twenty five (25) years of professional experience in the creation, restoration, and costing of new and vintage quilts. Her incredibly skilled team of seamstresses and restorers, some who have been with her for over 16 years, work on everything from pre-Civil War quilts, quilts with gaping holes chewed out by puppies, as well as quilts from around the world. One quilt came from as far as the Marshall Islands. Nancy loves the history and stories associated with each item.
In addition to restoring and preserving older pieces, Nancy's team designs new pieces. They create new quilts, coverlets, pillows, and dolls, using new and vintage fabrics, and sometimes from old t-shirts. Nancy and her family even patented pre-made quilts in a variety of sizes, so that anyone can easily add other fabrics to make their own work of art.
The move from Vienna to McLean was simply to allow more workspace. The Quilt Shop's specialty will always be the high-end, heirloom pieces that people want to save and pass on to the next generation. One of Nancy's favorite advertising slogans is from the Swiss watchmaker, Patek Philippe, "You never actually own a Patek Philippe, you merely look after it for the next generation." In essence, this is what she is doing with quilts.
Thank you again for visiting our Web site. We encourage you to navigate through the other pages and the many photo's of our cherished work. Hopefully we will get to meet in person or on line and be able to assist you in any way or just to chat about your favorite quilt.
Sincerely,

Nancy Preston The Quilt Doctor®

The Quilt Shop of McLean & Atelier
6819 Elm Street
McLean, Virginia 22101
Phone : 703-281-4091
1-800-281-4010
Email :
quiltdoctor@msn.com
The Shop Hours :
11:00 am - 5:00 pm
Monday - Saturday